On one of my very frequent drugstore runs last Friday, I stumbled upon Revlon's Fall 2012 limited collection, aptly named "the Shanghai" for Gucci Westman's love of Chinese grace, Asian lacquer and the soft, romantic & very classic, smoky eye. With a neat little release featuring three Super Lustrous lipsticks, four nail enamels, cute floral nail stencils and a to-die-for eye palette I couldn't help but make note that most stores appear to only carry two of each item. On an impulse buy, I snagged myself one lipstick, #029, Red Lacquer, and of course, the palette (which for $8.99 at CVS was nearly a steal ♡).
The limited, cream eye shadow palette, "Midnight Express," consists of six feminine, smoky cream colours ranging from a twinkly bronze and a classic black to a rich, smoky plum. I will give fair warning to those who are terrified of sparkles: slam those breaks ladies, thar be fairy dust ahead.
Packaged in a tiddy slim case with a convenient mirror (albiet small), the shades look relatively unassuming in the pan, however when applied, they transform into something entirely.. different.
From (L) to (R): white, green, pastel blue, black, bronze, plum. As clearly pictured, there's no lack of shimmer in these shades. When applied, they do
not
dry to a powder and actually remain a glossy cream which for obvious reasons can be a bit cumbersome to handle especially for chica of the oily lid persuasion. After trial and error, I've managed to make this work by simply swiping a little translucent powder (I like Tarte's) over my lids before and after applying. Wear time appears to run 4-5 hours with a good powder, longer if using a primer as well. The plum is definitely my favourite of the palette with the bronzed and black trailing behind. Unfortunately the lighter three don't really work for me: glitter, glitter everywhere (even in my hair). No thanks.
The lipstick I snagged, "Red Lacquer," is far less red and so much more coral than the name implies. It applies sheer, nearly like a balm and fades into a gorgeous, flushed stain with considerable wear time. ♥ A full day at the office? No prob for this jewel: apply once midday, and I'm all set. I'm pretty much smitten. While the cream shadows seem to be a hit or miss, the lip colours are all but a must-have. I definitely plan on picking up the other two if they're nearly as lovely as this one. If anything, toning down the shimmer would have made the eye palette considerably more wearable but as is with a little experimentation, I've managed to put it to good use. I'd definitely recommend checking the collection out at your local drugstore or Ulta.
Labels: cosmetics, drugstore, eyeshadow, lipstick, makeup, review, revlon
♥ kinda back~

Monday, November 28, 2011, 12:52 AM
hello lovelies~ ♡ i apologize that i've been MIA: unfortunately a lot of things happened these past few months.. sadly i was in a car accident so it's quite difficult for me to walk/sit up straight, etc for long periods of time ;___; i'm getting much better however between wedding planning & physical therapy it's been extremely hard finding time for updates! but thankfully i'm back & with tons of new make-up to boot~ ♥
♡ cell phone goodies

Wednesday, September 14, 2011, 7:47 PM
lucky for me, i received my mini-haul from
strapya
after work today~ ♡
strapya world is a japanese cell & accessories webshop that's been around for a very, very long time. ・:,。゚・:,。★゚・:,。゚・:,。☆ i've been ordering from them for years now and they've always provided exceptional service and quality items. recently my old phone died so i picked up one of the newer blackberry curve models ♥ i snagged a couple adorable cell charms, namely the "walking cat" strap and the useful black cat-in-a-sock which also doubles as a lipstick/gloss cozy~ of course when i saw they had
k-on!!
privacy blocker sheets, i immediately had to buy one. sadly it's made for longer screens but i can easily cut it.
lastly, i recently started a new job that requires a special pass to enter & exit the building.. i decided to go "bold" and also ordered the flashiest
nekomura iroha w/hello kitty
pass case i could find. it also happened to be the last one available.. о(ж>▽<)y ☆ ゚ i would most definitely try ordering from strapya.. of course EMS shipping can be a little pricey but it's 101% worth it considering they don't upcharge items from their original yen cost.
Labels: accessories, anime, cell phone, haul, hello kitty, japan, K-ON, shopping
NARS "Striptease" Lip Gloss

Tuesday, September 13, 2011, 9:29 PM
named InStyle magazine's best lip gloss back in 2009,
NARS
' Striptease is truly a gorgeous nude colour from outside the tube... if not a little bit of a hot mess. while us darker or olive-based chicks can rock a beige or nude flecked lip as well as any other lovely lady, it's certainly a little more difficult to find the perfect shade that doesn't entirely wash our faces out. this colour is totally understated sex appeal and absolutely
PERFECT
on nearly every skin tone.
the formula feels simply amazing; unlike other nude lip products that i've found to be either overly sticky or extremely drying, NARS once again, hits the nail on the head with a smooth, silky feel straight from the applicator. even when applied over highly pigmented lips (ahem), the colour soaks right in for maximum coverage, glitter free. sadly though, overall i was left feeling mad disappointed. despite all of its charming points, NARS really dropped the ball regarding Striptease's scent and consistency.
typically it takes a lot for the smell of a lip product to seriously offend me. fake fruit, plasticy type whiffs and everyone's favourite medicinal cherry scents aren't quite deal breakers for me especially when the product is of otherwise superior quality. surprisingly in this case, it was bad enough that i actually made a run for
sephora
today to return it. (☆▽☆);;; imagine spoiled concealer, oily yogurt and the slight after-mist of an ominous fishy odor rolled into one saintly, dazzling $25 lip tube. while i wasn't able to snap a pic, around the top of the tube i could even spy a ring of separated mineral oil from the rest of the colour (you can faintly see this in the photo above, toward the cap). shaking, heating or rolling didn't budge this at all. note that i also snuck a peak at a few of the other tubes and it appeared that yes, this is the norm.
man did this make me sad. very. NARS' lip glosses are a few of my favourite and personally, i have no idea how this slipped past their quality control. naughty, naughty. i'll definitely be sticking with
canmake
's nudy glosses from now on.
Labels: cosmetics, lip gloss, makeup, NARS, review
revlon ♡

Sunday, September 11, 2011, 12:31 AM
from l to r; colorburst, super lustrous & moon drops~


absolutely in ♥ w/revlon lipstick. normally chanel or dior has my ♡ but seriously, revlon's gorgeous formulas and mad ridiculous line of shades is simply amazing for the price & availability.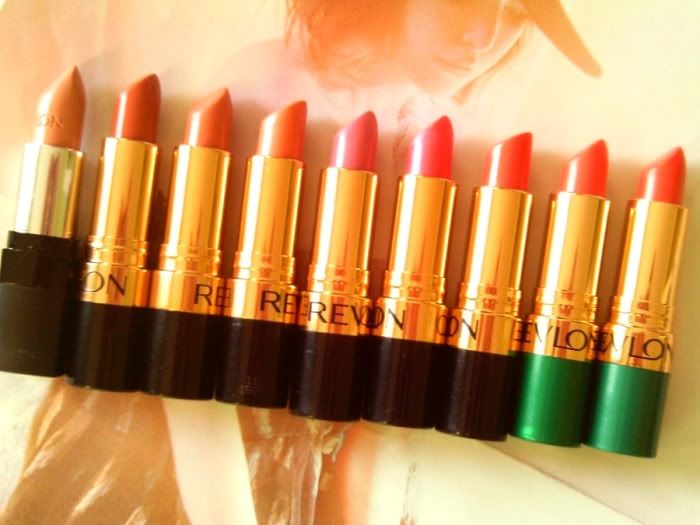 from l to r; ♥ #070 Soft Nude, #240 Sandalwood Beige, #613 Just Enough Buff, #120 Apricot Fantasy, #668 Primrose, #430 Softsilver Rose, #674 Coral Berry, #702 Blase Apricot & #704 Peach Silk.
their
moon drops
line (green tubes on the far light) are INCREDIBLY bright, pigmented & packs a punch to your face. "blase apricot" ironically, is one of the flashiest corals i've ever seen while "peach silk" has a little less of a red undertone and more of a pink making it slightly more wearable for every day use at work or errands. my favourite coral shade is definitely "coral berry" from their lustrous line as it's 101% appropriate for daily use & reminds me of that gorgeous orange-pink combo they use for the j.crew catalouge models ♥ their shades come in "creme" or "pearl" although even the creme shades still may have a shimmer or two depending on the colour. i LOVE their nudes and neutrals to death. "soft nude" is the only shade i've snagged from their colorburst collection & despite the very light, chalky colour, it feels lightweight, silky and applies smooth.

normally at wal-mart or target, their lustrous line is around $4-6 a pop while drugstores tend to charge a standard $8.99 or so. however i would recommend checking swatches online as US drugstores don't have samples. also, revlon's colour previews on their website & even the sticker at the bottom of the tubes are NOT accurate. at all. "blase apricot" is presented as a neutral, peach-brown but trust me, it's near fluorescent! thankfully the caps have a little window but it's difficult to tell just by peeking in.... ♥
Labels: cosmetics, haul, lipstick, makeup, review, revlon, rinka, shopping
freakin a-mazzzzing~

Wednesday, September 7, 2011, 12:26 AM
a-freakin-mazing. ♥
i highly, highly, highly recommend picking up chanel's vitalumiere aqua perfecting make-up. as opposed to using primer, concealer, foundation & powder, this relatively new formula is like a second skin eliminating the need for multiple products. both foundation & a tinted lotion in one, its extremely gentle and spring water-like mineral texture applies easily with fingers & smooths out pores, fine lines and blemishes. after getting a quick colour match at macy's, i've been using it since sunday with simply amazing results: a gorgeous, matte finish throughout the entire day, rain, humidity & all.
combined with blush, mascara and a quick fix of lip colour, this is totally going to simplify my work-morning make up routine ♥♥ sooo worth the $$!
Labels: chanel, cosmetics, foundation, makeup, review, shopping, tinted lotion, vitalumiere aqua
maury show taping ♥

Tuesday, August 30, 2011, 11:00 PM
to celebrate my birthday last week, we finally went to see the maury show live (in person). for those unfamiliar or not residing in the US, the maury show is the epitome of the american way: tons of random debauchery, ignorance and of course, lie detector/DNA test madness. it's not so much an actual talk show as it is a circus-like madhouse of idiotic ranting and screaming. sadly, it happens to be the highlight of my morning while getting ready for work every weekday (lol).
i ordered tickets a month or so for free in advance and received them about a week before the taping. located in downtown Stamford, CT, its location was literally right off of I-95 so it was quite easy to find. since the show was early friday morning, we rented a cheap motel room about nine minutes away for convenience sake.
despite reserving a seat, technically the tickets were still first come first serve, so we arrived around 8am (doors opened at about 9am). thankfully we did leave early as there was already quite a line of 100+ people out the door!
after patiently waiting, we made it through the initial bag check/metal detectors & were seated in a waiting lounge with several flat screen tv's airing classic maury moments. ;;;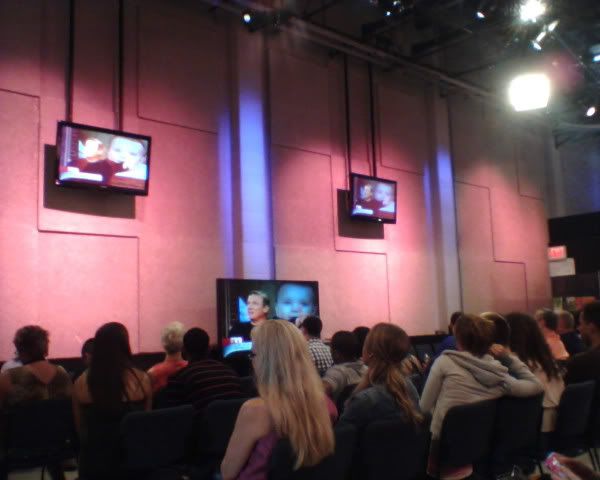 around 10:15 or so, we were led to the set's entrance and called in 50 at a time. (charlie & i were numbers 140-141). thankfully we actually made it in as afterward, we noticed a good number of people didn't make the cut. charlie & i found great seats in the back so we could easily see everything around us.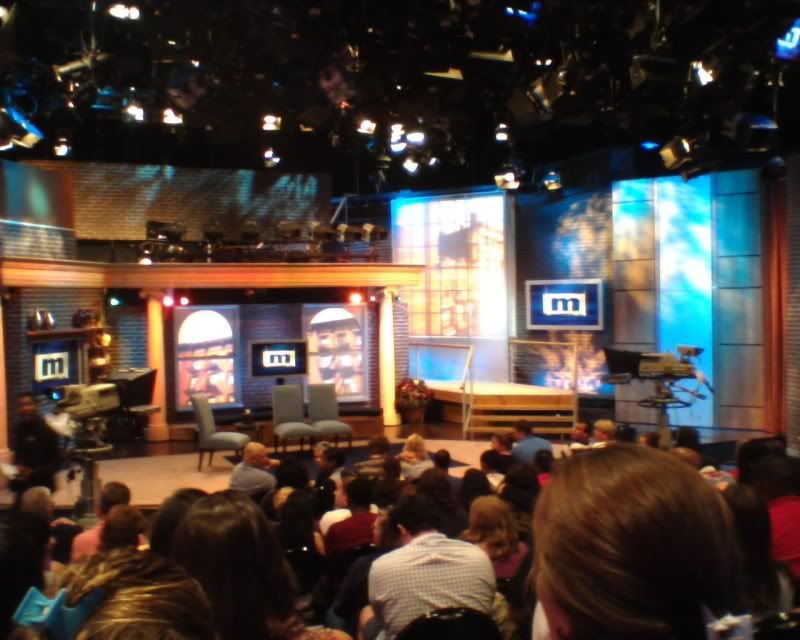 for those thinking about scoring free tickets, do know, this is NOT a quiet event to attend: before briefing the audience on proper behavior, they pumped us up with blazing club music, dancing and general rowdy fun.
while it was glaringly obvious that the show is definitely meant to egg on & instigate the guests, i can 101% assure you, it's real. oh my. is it real. despite the producers/directors having directional cards in hand to arouse anger in the more quiet guests, most of the people on the show were incredibly obnoxious/loud and generally.. insane. (one woman was STILL yelling so loud back stage that she had to be escorted out.) being in the audience also had its fair share of responsibilities: we were prepped beforehand on when exactly to stand, yell, cheer and boo. however the excitement of being there was honestly enough for most of us to jump to our feet every 2.5 seconds.
maury is exactly the same in person as on tv. if not even more hilarious between guests.
sadly since we were a little behind schedule, there was no time for pictures with the audience as he usually does.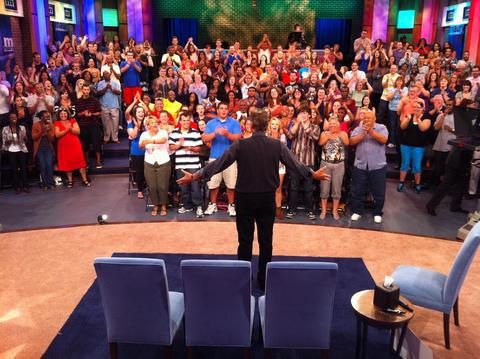 (can you find us? HINT: next to the tallest guy in the room. lmao)
overall, it was an incredibly fun experience. ♥ i would honestly recommend it.. sure some consider the show sheer exploitation/trashiness, but as far as i'm considered, ya'all can keep your housewives/sex in the city/jersey shore & i'll hit up 800-MAURY anytime~ it was an unforgettable birthday!
Labels: birthday, maury povich, maury show, review, talk show, tv