today, lovelies, i'd like to mention one of my favourite online shops, KANFUL. an online (& physical) consignment mega store, they cater to the savvy fasionista watching her wallet.
including a laundry list of brands from cher to chanel, marc jacobs to moussy, rebecca taylor to rich, it's a one-stop shopping experience for both japanese & western brands alike. surreal & almost mind blowing to see gelato pique and prada side by side, their prices are even more head spinning, nearly bordering on insanity. 3,990 yen for a gorgeous marc by marc jacobs tunic? well, i never!
even more outrageous is their quality ranking criteria. a couple weeks ago i found this gorgeous rich (リッチ) quilted chain purse. one of my absolute favourite brands, rich is a more upscale, expensive name that caters toward us fabulous ladies with elegant and classic taste. retailing for well over $150 USD, KANFUL had it listed for around ~30 USD at a "D grade" ranking. willing to take the risk, i quickly ordered it & was shocked when it arrived in new-like condition. the only, barely, visible traces of its second hand origin i could find were a tiny scratch on the front logo plate and a teeny stain on the inner lining.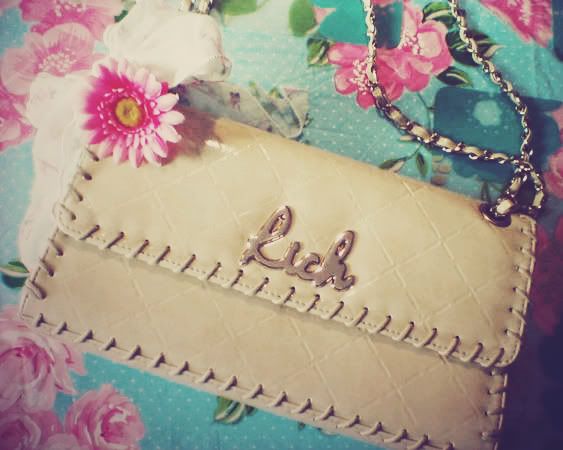 their customer service deserves a gold star for prompt and friendly attention while the shipping & handling charges were EXTREMELY reasonable. sadly, overseas sellers tend to ship things less than economically in huge, bulky boxes adding to the shipping costs beyond reason. (i'm lookin' at you, ROSE FAN FAN & Makiko Online Shop~) for EMS i only paid around 20 USD (which generally SOUNDS expensive.. but trust me, for a heavy, padded chain purse sent via express mail from japan, it's not). in person, this is actually a very, very large bag & not at all what i thought by the original photos! ♥
i would 101% recommend giving KANFUL a shot for those looking to score an awesome deal on gently used designer goods. they have a very large selection of japanese brands not listed on their front page (use the search box).
Labels: haul, japan, KANFUL, purse, rakuten, retail whore, review, rich, rich (リッチ), shopping