So, Friday was my birthday. Thankfully I had the weekend off & had a blast. We scored tickets to see the Maury Show live (more on that later) in Stamford Fri morning and it was so worth the troublesome NYC traffic~ ♥
Even though my bro had to head back home to Japan the week before last, he surprised me by leaving an awesome haul of cosmetics & gifts for my bday!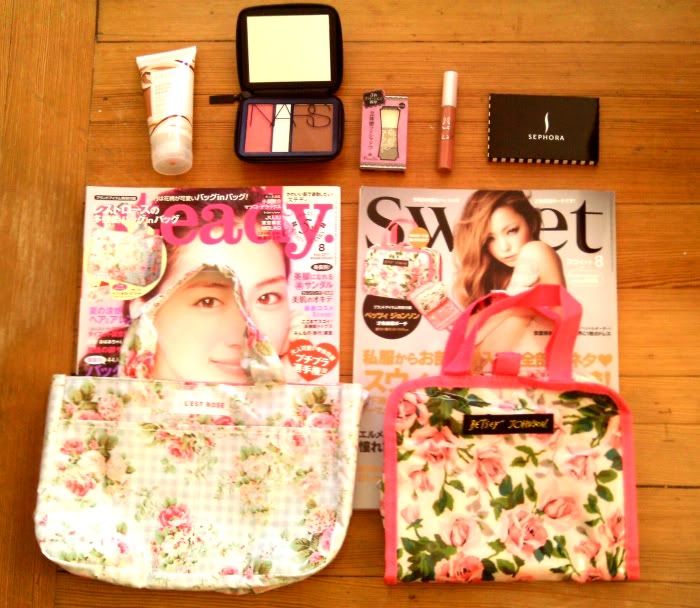 August's issues of steady. & Sweet magazines came with adorable バッグINバッグ style pouches~ These are incredibly handy for stashing things in my purse on the go. He also grabbed two 7-11 brand exclusive ParaDo items: an eyemake palette (GN01) & a lip rouge (BE07). I'm totally amazed by the surprisingly high quality as I could almost swear the lip rouge was NARS or MAC. (☆▽☆)
Also, I winded up with goodies from Sephora thanks to the giftcard he purchased for me: I've been DYING to grab NARS bronzing palette which includes their award winning blush, highlighter and Laguna bronzer. As a bonus goodie I also decided to try PACIFICA's new coconut scented bronzing lotion which is as delicious smelling as it sounds.
A huge thanks to my brother for the wonderful gifts~ ♥ I have to admit he was pretty brave to wonder into the cosmetics section ;;;;
Labels: Betsey Johnson, birthday, cosmetics, haul, japan, LEST ROSE, NARS, ParaDo, shopping, steady, sweet