from l to r; colorburst, super lustrous & moon drops~


absolutely in ♥ w/revlon lipstick. normally chanel or dior has my ♡ but seriously, revlon's gorgeous formulas and mad ridiculous line of shades is simply amazing for the price & availability.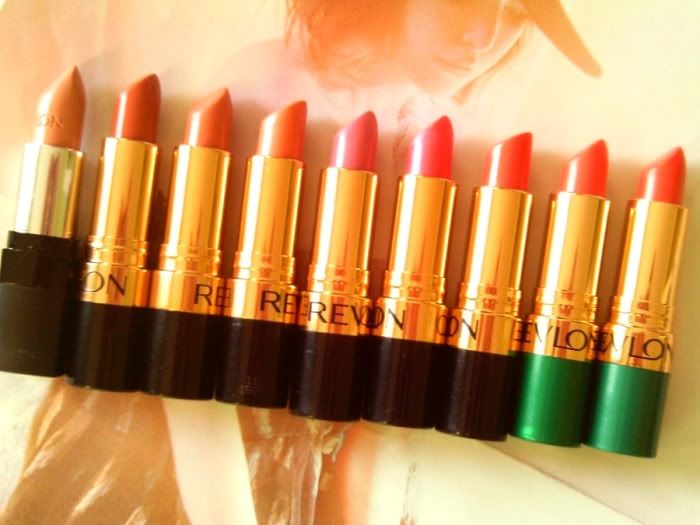 from l to r; ♥ #070 Soft Nude, #240 Sandalwood Beige, #613 Just Enough Buff, #120 Apricot Fantasy, #668 Primrose, #430 Softsilver Rose, #674 Coral Berry, #702 Blase Apricot & #704 Peach Silk.
their
moon drops
line (green tubes on the far light) are INCREDIBLY bright, pigmented & packs a punch to your face. "blase apricot" ironically, is one of the flashiest corals i've ever seen while "peach silk" has a little less of a red undertone and more of a pink making it slightly more wearable for every day use at work or errands. my favourite coral shade is definitely "coral berry" from their lustrous line as it's 101% appropriate for daily use & reminds me of that gorgeous orange-pink combo they use for the j.crew catalouge models ♥ their shades come in "creme" or "pearl" although even the creme shades still may have a shimmer or two depending on the colour. i LOVE their nudes and neutrals to death. "soft nude" is the only shade i've snagged from their colorburst collection & despite the very light, chalky colour, it feels lightweight, silky and applies smooth.

normally at wal-mart or target, their lustrous line is around $4-6 a pop while drugstores tend to charge a standard $8.99 or so. however i would recommend checking swatches online as US drugstores don't have samples. also, revlon's colour previews on their website & even the sticker at the bottom of the tubes are NOT accurate. at all. "blase apricot" is presented as a neutral, peach-brown but trust me, it's near fluorescent! thankfully the caps have a little window but it's difficult to tell just by peeking in.... ♥
Labels: cosmetics, haul, lipstick, makeup, review, revlon, rinka, shopping